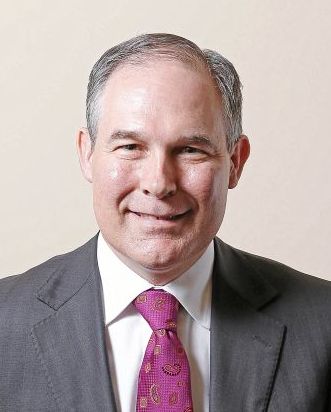 Attorney General, Scott Pruitt
Yesterday, according to the Oklahoma Policy Institute and the Tulsa World, the Attorney General rejected the wording used in a proposed ballot initiative that would legalize the use of medical marijuana.  The AG's office apparently described the proposal as seriously flawed.  However, the AG's office has undertaken to re-write the proposed ballot initiative.  Once completed, the AG will then submit the proposed ballot initiative to the Secretary of State for approval.  Once approved, the group proposing the ballot initiative will have 90 days to collect 155,200 signatures.  If the requisite signatures are obtained, the initiative will be placed on the November ballot and voters will decide whether to approve or disapprove the initiative's medical marijuana proposal.
The group behind the ballot initiative effort is Oklahomans for Health.  However, I have been unable to locate any more information about this group.  If anyone has information, I would be interested in learning more.
As I have written about on this website, Oklahoma's laws penalizing marijuana possession are some of the harshest in the country.  Couple that with Oklahoma's general policy of enhancing subsequent charges based on prior convictions (similar to California's "three strikes" policy) and you get a recipe for incredibly harsh, draconian results for people who possess and sell marijuana.